About Pacifico "Tony" Palumbo
I was born In Park Slope Brooklyn N.Y. On April 4th. 1941. I began drawing at age 3. I thought it was natural and everybody drew. I would sit at my parent's kitchen table find a piece of paper and pencil look up at our calendar and try to recreate what I saw, paintings by Michael Angelo, Da Vinci and many others.
I didn't know who they were I just liked them. I will never forget the day when my father came over my drawing took the hook we used down the docks to grab bails and destroyed the drawing I was working on. " I never want to see you do that again. He shouted you're going to be a communist or queer. Well, I'm not a communist. I loved my father and I could never figure out what I was doing wrong. I think that was a common belief at the time.
When my Uncle bought me a set of oil paints I was in heaven. While my father was working I would paint. I kept my drawing board under my bed.
I painted until I was 27, during which time I pursued my career as an Art Director. I became a photo-retoucher at The New York Journal American News Paper at 18, attended Brooklyn Community College, then Pratt Institute for painting, then, finally, The School of Visual Arts.
My advertising career began at Ogilvy & Mather. After a year I had the good fortune of getting a great job at Wells Rich & Green where I worked for 18 years.
In 1974 my partner gave me a neon sign that said "I Heart NY" for my birthday. It was the account I was working on at that time. We both liked the sign so much that we decided to open a Neon Galley, which we did in 1978. We called it "Say It In Neon." It was located on Hudson St. in Greenwich Village. We ran the Gallery for 12 years.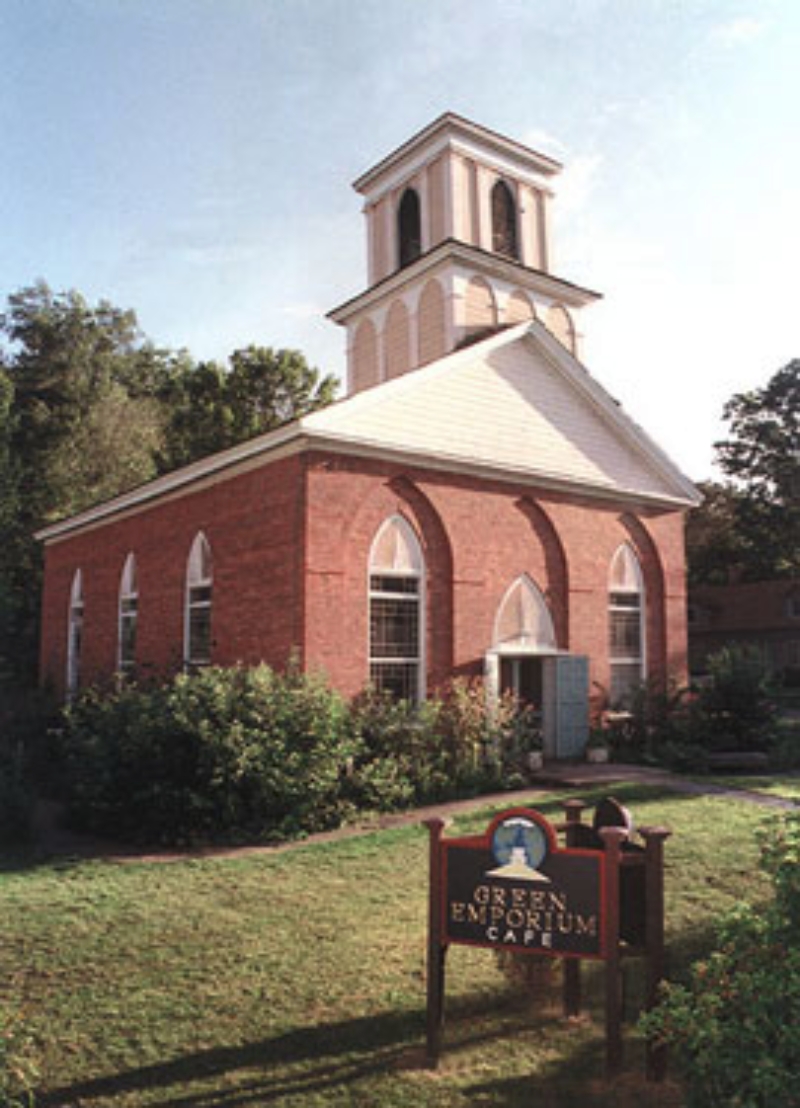 Green Emporium Cafe
In 1991 we purchased an old Methodist Church in Colrain, MA. located in one of the beautiful hill towns of Western Mass. We wanted the building to be our new Neon Gallery.
After fixing the building we became concerned that no one would come to see Neon Art, so we decided to open primarily as a restaurant, because my partner is a chef. We called the restaurant the Green Emporium. Michael, my partner, ran the restaurant while I showed my Neon Art on the large walls.
In 2001 when I turned 60 I longed to paint again. I had not painted since I was 27. I was very nervous about doing it. I took a class in painting at Greenfield Community College. My hand was shaking as my paintbrush connected with the canvas. Slowly it all came back to me.
We sold the church building in 2012. Our new gallery called The Barrel Shop Gallery is located in our home in the same town. It's a large cooperage that we purchased in 1969. We show my paintings and neon art there.
My paintings and drawings are for sale from this site or our gallery.
I hope you enjoy looking at them and consider purchasing one or more.